Feels Like Home to Me
Feels Like Home to Me is a 17-monitor video installation accompanied by a series of 36 framed drawings. The project reflects on concepts of home, loss and identity through an exploration of place. Over the summers of 2007 and 2008, Toni Latour traveled back to the 17 places she'd lived in up until that time. This brought her to 8 Canadian cities, across thousands of kilometres. In front of each location she recorded herself singing "Feels Like Home to Me" by Chantal Kreviazuk (original by Randy Newman), while listening to the song play on her CD Walkman and referring back to lyrics printed on a sheet of paper. The performances mix humor with sadness, as her genuine effort to sing is undercut by the results of her amateurism.
In addition to the videos, Latour is in the process of drawing each of the 17 locations in graphite on paper. To complement these drawings and expand the dialogue on departure and return, she has researched and selected 17 birds that are native to the various areas, and is drawing them as well. The project is in progress.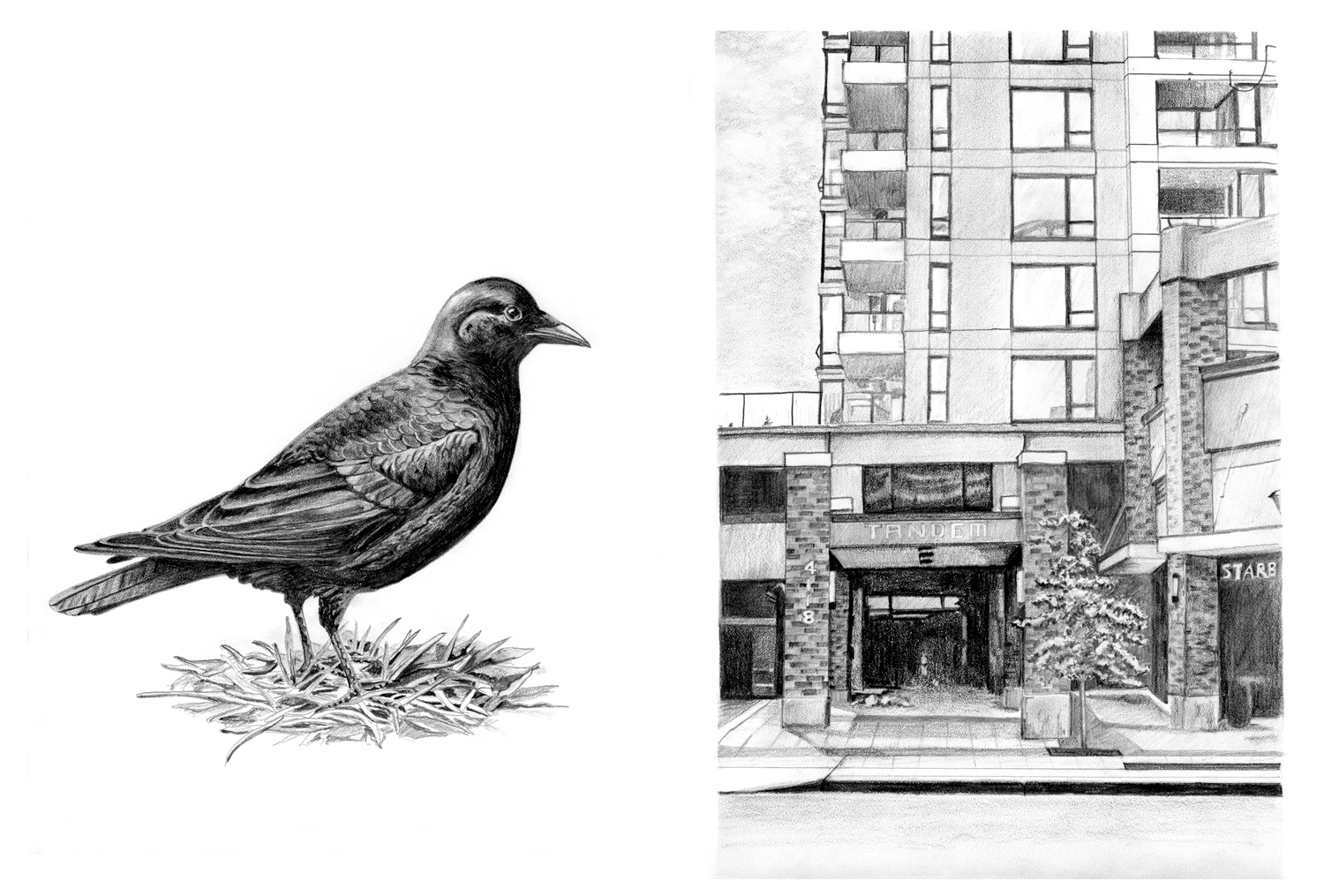 Feels Like Home to Me, 17-monitor HD video installation, 34 graphite drawings by Toni Latour and Studio Assistants, 2007-present
---
Westbound from E.L. to V.

Westbound from E.L. to V., site-specific installation: giclee prints and carpet under padding, Shift exhibition, Centre A, Vancouver, 2004
The site-specific installation Westbound from E.L. to V. consists of two large-scale digital prints and a floor piece. The digital imagery has been appropriated from a "Mountains of BC" calendar. The text that lays overtop speaks to the artist's anticipation of moving out west from Ontario and her reaction to nature and culture in British Columbia. The floor piece is a map of Vancouver made out of carpet under padding. It is strategically placed to be directionally accurate. The piece speaks to the kind of investigatory work that happens when one relocates. It was created specifically for the Shift exhibition at Centre A.

Westbound from E.L. to V., giclee print, 10" x 90", 2003
While maintaining a sense of humour, this project explores Latour's fluctuating position in contemporary Canadian art worlds, as well as her geographic and cultural locations. These ideas are foregrounded by differences in regional identity and the experiences of moving within the vast landscapes of Canada.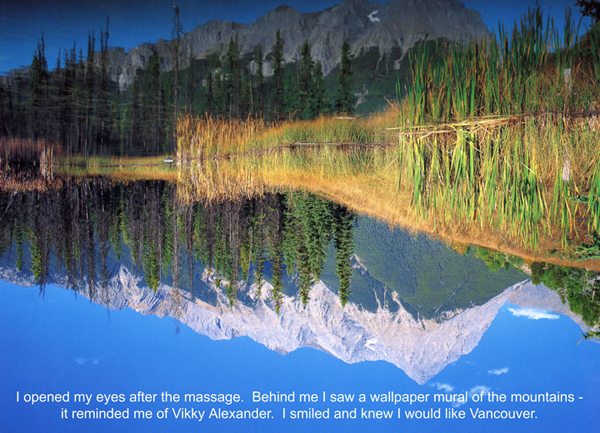 Westbound from E.L. to V., giclee print, 60" x 43", 2003
---
Work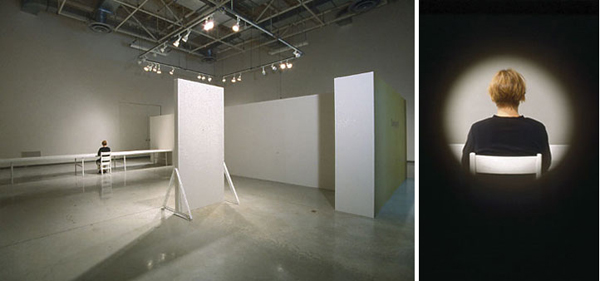 Work, site-specific installation: 21′ x 4′ table, chair, free-standing wall with peephole, Dodgeball exhibition, Art Lab, London, ON, 2000
The exhibition Dodgeball included a site-specific installation called Work. The piece is influenced by the writings of Karl Marx, in relation to artistic practice. It is comprised of a 21′ x 4′ white desk, coupled with a white standard chair, and a freestanding wall with a single peephole. The peephole is positioned at the artist's eye level, and speaks to the internal and external scrutiny involved in "work". The experience of sitting at this massive desk can be likened to the experiences Alice had in Wonderland. Dwarfed in front of a sea of white, the piece suggests a sense of anxiety surrounding the mounds of inferred "work" to be done, and excitement at the raw potential for creativity – the potential for "work" to become "labour".