let's heal the divide

let's heal the divide, multi-colour maquette for the 40-foot public art installation at Vancouver Community College, 4′ wide, 2015
---
What Was Your Name Again?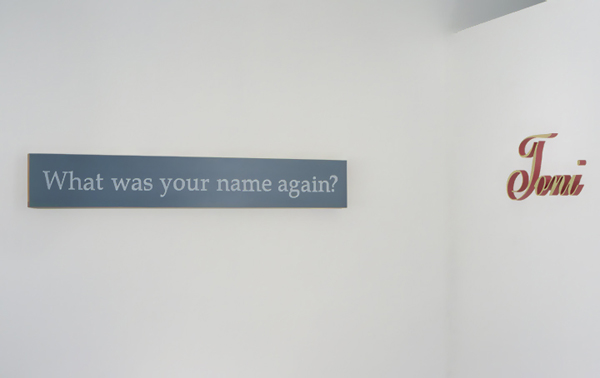 What Was Your Name Again?, oil on oak (7.25"x48"), 3-D Styrofoam letters with brushed gold-plated face and fuchsia pink sides (18"x12"x1"), 2002
This piece is comprised of two components in conversation with one another. The first is an oil painting that spells out "What was your name again?" in drab gray tones. The second is a set of 3D letters that glamorously spell "Toni" in brushed gold and fuchsia pink paint. The piece deals with the side effects of ambition.
---
Top 20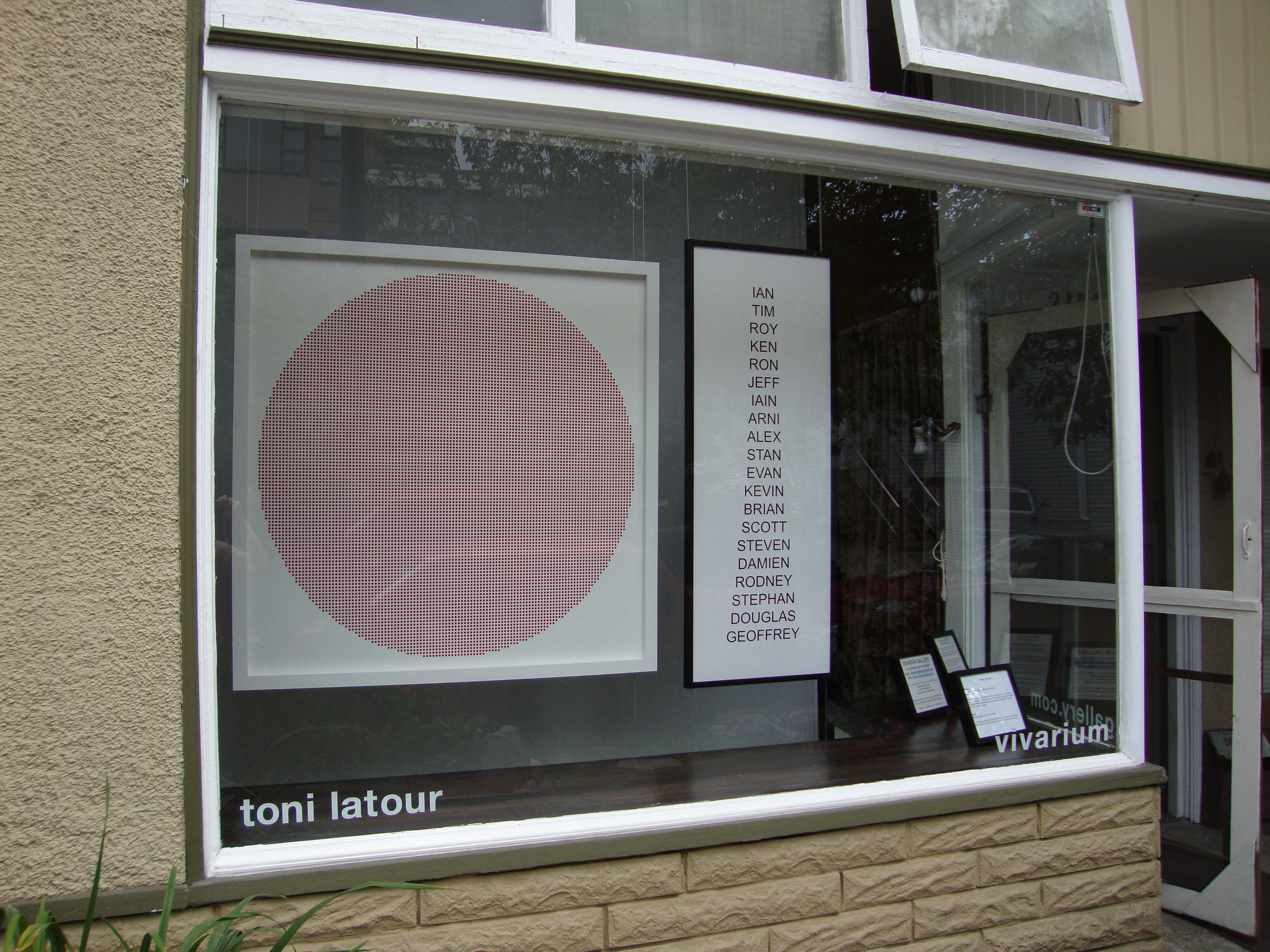 Top 20, archival inkjet print, 20.5″ x 56.5″, 2008
In an attempt to expose and disrupt patriarchy in the local art world, this piece lists the Top 20 artists in Vancouver*, all of whom are male.
*All artists listed here either live in Vancouver or established their careers in Vancouver.
---
Red Dot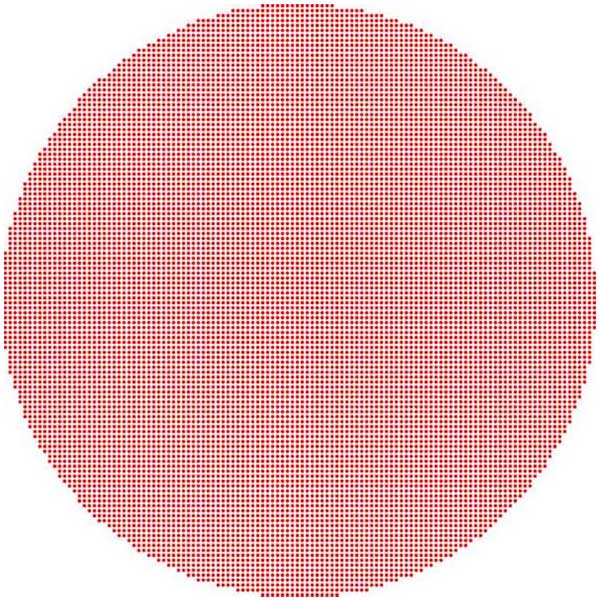 Red Dot, laser-cut vinyl on rag paper, mounted on foam core, 48″ x 48″, 2008
Made up of thousands of red dots (11, 098), commonly used in commercial galleries to denote the sale of a work of art, this piece examines the economy of exchange that can sometimes dominate the art world, creating markets that are used to determine levels of "success".
---
Homage to Parenthood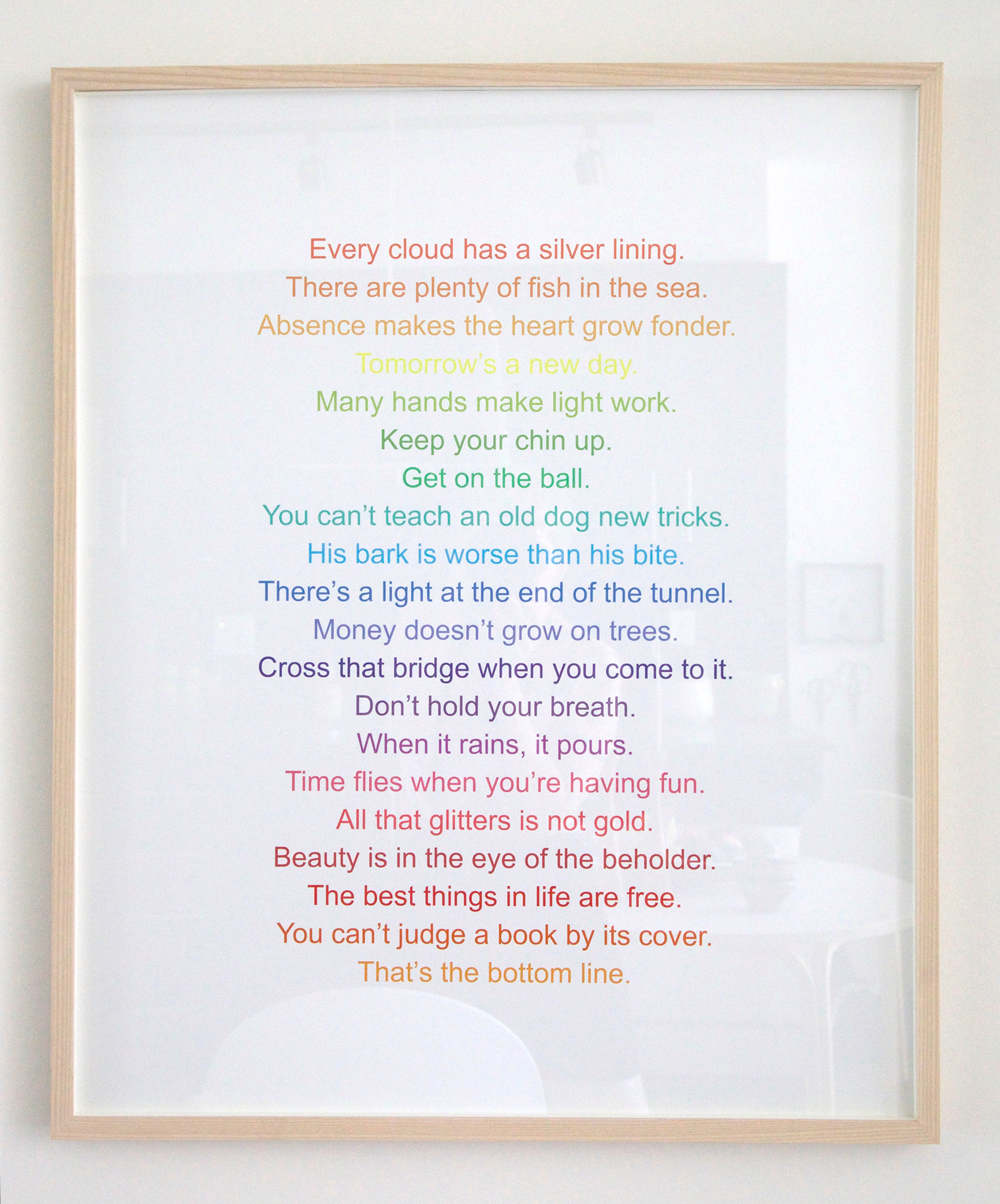 Homage to Parenthood, archival inkjet print, 41″ x 182″, 2008-10
Homage to Parenthood exists in 3 different incantations: a public art project, a large-scale scrolling print, and individual framed print fragments. The project depicts 100 clichés, idioms and sayings in a rainbow of colours. It is inspired by the artist's deceased father, who used several of these lines as a means of creating levity and teaching his children about the world. The public art version is currently installed as a 6 panel work at the Brighouse Skytrain Station in Richmond, BC, as part of the Vancouver Biennale. Documentation of the project can be found in the 2009-2011 Vancouver Biennale Catalogue. The scroll version belongs to the permanent collection of the Vancouver Biennale.  The individual framed prints belong in several private collections and in the collection of the artist.
---
Homage to Wayne
Homage to Wayne, wool, cotton, thread, doweling, 4×7′, 2014
"Homage to Wayne (2013-2018) is an ongoing text-based project that is currently made up of 6 textile panels that pay homage to my late father.  They use fabrics inspired by my father's wardrobe, including one of the last plaid shirts he ever wore, that I keep in memory of him.  Each panel uses specific sayings that were commonly spoken by my father, and for me and my family, Wayne's voice rings loudly in memories born from reading these sentences.  The language and phraseology is very particular to his race, class, economic standing, education, age, and sense of humour.  My family and I delight in remembering my dad say these things.
Special thanks to local quilter and craftsperson, Joan Moore, who hand-switched the letters.
And thanks to the Canada Council for the Arts for their support of this project."
---
I've Never Heard of You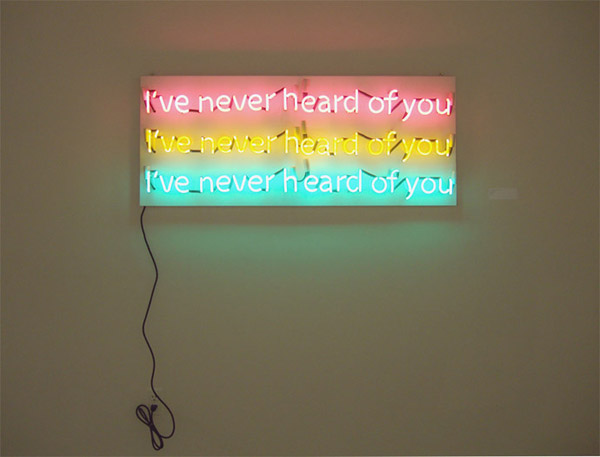 I've Never Heard of You, neon sign, 24″ x 48″, 2008, in the Private Collection of Connie Buna
Inspired by a conversation with a representative from the Canada Council for the Arts, this piece humorously examines Latour's continuous reflection on art world dynamics and her career as an artist.